Leadership is often hailed as the solution to the countless challenges which healthcare faces.  It is unquestionably important.  In their Leadership and management standards for medical professionals, the Faculty of Medical Leadership and Management emphasise the benefits it can bring for patients, doctors and individual doctors alike.  As a result, many doctors proactively seek out CPD training on the subject.  They want to lead well and to get things done.  Gaining a Certificate of Completion of Training (CCT) will also typically expect evidence of participation in leadership and management courses.  Is there a risk, however, that such focus is too one-dimensional?
Four dimensions to consider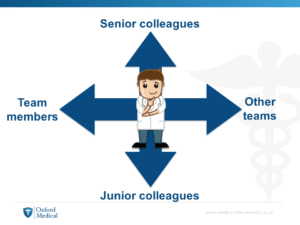 Leadership
Followership
Team membership
Interdependence between teams.
Unless you are the owner of your practice or leader of organisation then you are also a follower.  You follow your organisation's more senior leaders.  You will also be a team member – potentially of a leadership team – and the team you lead must work in conjunction with other teams to deliver your services.
Good followers are much more than passive individuals who follow orders without question.  They keep their leaders informed, proactively seek clarity, constructively challenge at the appropriate time and propose ideas.  They then use disciplined initiative, following the direction of their leaders as they fulfill their role and lead others.  The best leaders have a firm grasp on what makes a good follower as they are typically good followers themselves.  Great leaders forge strong communication channels with their own senior colleagues to help their organisation move forward in a unified direction.  They know the challenges of being a follower and use this to support those they seek to lead.
Truly unified direction within a large organisation can only be achieved through leadership teams.  Great team players communicate effectively with each other, share clarity of purpose, processes, roles and responsibilities.  The best leaders work with their peers to achieve these conditions.  As they understand team dynamics they create the culture where they foster great teamwork between the people that they lead.
In this modern era, where multi-morbidity is increasingly common, coordinated health and social care is dependent on a plethora of multi-disciplinary and specialty teams.  The route to effective and efficient provision of care is through quality communication and interdependence between these teams.  Great leaders enable this as they, once again, have a good grasp on the need for these conditions and have developed the skills to interact with other teams.
 Support from above, below and alongside
So an irony of being great leaders is that we have to be great followers, great team members and great connectors with other teams.  Great leaders recognise the problems which arise through isolation or any shortfalls in each of these four dimensions.  Everyone, from top to bottom and across an organisation needs support from above, below and alongside.  In truly great organsations each and every member strives to achieve this.  Medical leadership and management courses must therefore be designed and delivered with awareness of these challenges mind.  And, in addition to courses directly labelled for leadership and management, great leaders should seek to develop strong team communication skills.
What steps are you taking to become a great leader?
Stephen McGuire
Head of Development