ST & CT Medical Interview Guide 2017-18
The complete guide to success in your ST/CT Medical Interview with in-depth information, exercises and 200 practice questions.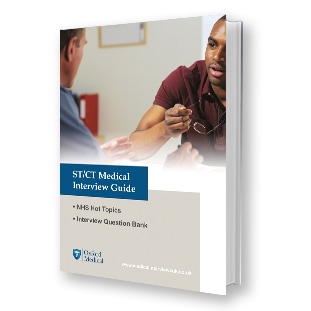 Overview
The ST & CT interview is a rigorous examination of your abilities, experiences, motivations and potential. Competition rates for the most desirable training posts are extremely high. Our 101 page book guides you to prepare for success. You will benefit whether you are preparing well in advance, or having a last-minute rush.
Choose from:
Hard copy version of the guide sent by post
Non – printable PDF download only version
Both versions of the book provide a mix of informative text and exercises to help cement your learning.  The exercises are designed to help you retain your experiences and thoughts by putting them in writing. The downloadable file has recently been redesigned to allow you to type your responses and reflections directly into the PDF which can be then saved for future reference.
In 2016, almost 16,000 doctors made applications for less than 9,000 ST1 or CT1 training posts in the UK. So, on average, there were around two applicants for every position. ST3 and ST4 competition rates were of a similar level. Some specialties had more than 8 candidates for each post and there were a remarkable 17 applicants for each Community Sexual and Reproductive Health vacancy. The specific ratios for each post vary each year and can be hard to predict. The desire for each  candidate to be successful, however, is a constant.
Our ST & CT Medical Interview Guide is the comprehensive resource for preparing to present yourself at your very best – the key to ensuring your success.
Discover what to expect from the various challenges and interview stations.
Work through exercises to establish the information and best examples of your experiences.
Explore good interview technique in order to perform at your best on the day.
Practise with 200 example interview questions to anticipate the unexpected boost your confidence.
Please note:
See our 10 page preview below.
---
Read Reviews on TrustPilot
---