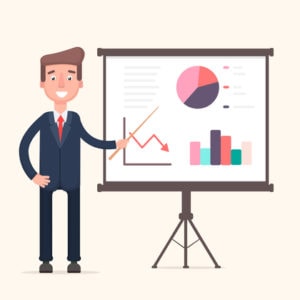 There are many reasons why you, as a doctor, may need to deliver a presentation.  You may be involved in teaching or have to demonstrate learning.  You may want to share the output of some research.  Alternatively, you may need to present a business case to decision makers or share some information, such as a new way of working, with your team.  Sometimes, if you are applying for a training or consultant post, you may be required to deliver a presentation to an interview panel.  The skill of being a great presenter is a regular topic of discussion on a number of our courses.
So who are the great presenters?
Great presenters are all around us.   It's always easy to consider this on the grandest scale.  We see them at conferences, TED talks, on radio and television.  They include educators, leaders, politicians, news readers, journalists, documentary presenters and even comedians.  There is a huge variety of styles: the energetic too the calm; the humourus to the serious; the eccentric to the 'everyman' and much, much more.  Although they may be influenced by others, the best presenters deliver the task via the best version of themselves for context.  Having their own style gives them authenticity which is a major contribution to their influence.  What they all have in common is that they broadcast their information to us in a manner which we understand and hold our attention.  This doesn't just happen by chance.
But we also meet great presenters in our everyday lives.  We all know people who excel at delivering information in meetings, at shift handovers or in smaller scale teaching scenarios.  They typically make good use of of thorough preparation, organisation and practice.
How can I effectively prepare for a presentation?
Quality preparation can be split into a few headline categories.
Establishing absolute clarity of purpose
Conducting thorough research
Creating the structure and materials
Preparing yourself
Establish clarity of purpose
This is the first step.  What is the point of this presentation?  Why is it required?  What do I want to be different once I'm finished?  Explicitly defining our answers to questions of this nature gives us direction that guides and focuses our direction to keep us on track.
Research is the next step.
Gather all the relevant information, facts, figures and references which you require to fulfill your purpose.  Even if the reason for delivering the presentation is to share the output of a research project there is still research to be conducted.  Who are your audience?  Why is this relevant to them?  What level of experience do they have in this subject?  What have they been doing before and what will they be doing after the presentation?  How much variation is there in the answers to these questions?  Quality research will guide the development of your content, help you to decide what to include along with what to leave out, plus help you identify key messages.
Structure
Now you need to structure the delivery of your information and create any supporting materials which will help you to achieve your purpose.  There are endless options for good structure.  You could choose any one the countless approaches to story telling.  Alternatively you could stick to the tried and tested 'News at Ten' approach: tell them what you are going to tell them; tell them; tell them what you told them.  A good slideshow and set of written notes distributed in the right manner will hold your audience's attention and help them to absorb your information.  Too often though, PowerPoint slides are used as prompts for the presenters benefit, rather than created for the audience.
Prepare yourself
Next, you need to focus attention on preparing yourself.  What else do you need to do that will enable you to perform the task with confidence?  A bit of nerves can be a good thing, keeping you on your toes.  However, you must take steps to keep them under control.  It helps to practice your delivery and to take feedback from someone you trust in a safe environment.  Our 1-day Advanced Teach the Teacher: Presenting and Lecturing workshop for doctors is an ideal way to do this. You may well also be able to draw parallels between managing your nervousness regarding presentations and the methods you employ to prepare yourself for other challenging tasks.  For examples, how do you prepare yourself for breaking bad news to a patient or their families?
However, there is one big question that you should always ask yourself when you are planning to deliver a presentation.
Is a presentation the best approach for this task?
We study this question in depth during our 2-day Teach the Teacher Course for Doctors.  Many people take the presentation approach when there are better options.  A presentation or lecture works well when you have a large number of people.  Unfortunately, it has many limitations.  Smaller groups offer the opportunity for more interactive approaches.  Interactivity helps to hold people's attention and can enable self-discovery and experience which accelerate changes to knowledge, skills and attitude.
Stephen McGuire – Head of Development