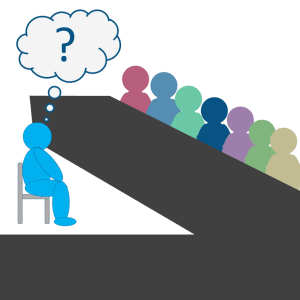 The pandemic has been a dramatic collective experience for our society. It's the type of rare event where the lasting impacts are bound to be far and wide and deep. Healthcare is right at the centre of this, meeting unprecedented challenge with fundamental change. The NHS created field hospitals at surprising speed. Specialists took on unfamiliar roles. Many doctors and other healthcare professionals were trusted with greater responsibility. The need for genuine interdependence with the social care system became more obvious than ever before. Then there was the widespread transition toward digital consultations. I'm sure you can add many other points to this list and that's before we even start to consider the impact that this has had on you as an individual.
Focus and purpose of a medical interview
Though it may seem like stating the obvious, the task for any interviewer is to find out about you. I'll explain why this is worth mentioning shortly. They want to uncover your skill levels and development requirements, your attitudes and opinions, your interests and motivations. Rather than pose theoretical scenarios, (which they may well do), the most effective approach is that they probe your real experiences. The more recent, the better. So, with that in mind, a very good question for them to ask is…
What have you learned from the pandemic?
Can you answer that clearly and concisely? Then there are a whole host of underlying and related questions. Tell us about your experience. What challenges did you face? What did you do? Why? What was the impact? What do you now do differently as a result? Can you give us an example of that?
These aren't really new questions as such. Together, they are simply a good example of an exploratory approach framed in current circumstances that every interviewee should be able to respond to.
Some doctors on our courses expect to be told what to say. But there are no stock answers for these questions. That's because your individual experience within the global pandemic is unique. In fact, if the purpose of the interview is to find out about you, then there are very few questions where stock answers can be effective. That's why our approach to medical interview preparation is to help you identify your most relevant experiences, then support you to communicate how they have influenced you to become the person that you are today. We believe that such awareness can open the door for you to become a better doctor. So, pausing to take stock and identify what you have learned from the pandemic is relevant for everyone – even if you're not about to face an interview. It is likely to be a topic for discussion during your next appraisal or ARCP.
Lifelong learning
The best doctors are able to learn from their experiences. They grow as a result of their difficulties and failures every bit as much as they do from their successes. They identify areas for improvement and proactively take action, rather than simply collecting CPD points because they have to. Having the self-awareness to be able to provide evidence of learning and change will impress any interview panel, appraiser or supervisor and will be driving force for your ongoing development. Proactively revisiting reflective writing skills can open the door to achieving this.
So what have you learned from this pandemic and what are you doing differently as a result?
Stephen McGuire – Managing Director