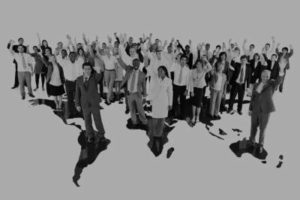 Immigration is without doubt one of the most contentious subjects in the news over the past couple of months. Earlier this week Home Secretary Theresa May stated thathigh levels of immigration make it impossible to have a cohesive society.
Whatever your views on the matter, immigration undoubtedly has direct implications to practising as a doctor.
At present some 13% of the UK population were born abroad. At one level this ethnic diversity and demographic change means that today's doctors are required to address different medical challenges than their predecessors – higher prevalence of diabetes in some localities or sickle cell anaemia are a couple of examples. On another level language barriers and cultural differences can lead to the challenges of effective communication with both patients and their families. I know some clinicians working in areas where there are significant communities who have taken the practical step of learning the relevant language to address the challenge.
According to the General Medical Council's statistics 36.4% gained their Primary Medical Qualification outside of the UK. This figure rises to 41.5% for those on the specialist registers. By implication the diversity of nationality is considerably higher within the community of doctors in the UK than in the general population and this has been the case for some time. Such diversity brings both great benefits and great challenges.
The subject of cultural differences and language barriers – both between doctor and patients and between doctors communicating with each other – is a regular topic of discussion on ourAdvanced Communication Skills courses. These events successfully focus on the principles of good communication, the factors affecting communication/ behaviour and the application of communication models to healthcare. What often becomes clear, however, is that it can be a doctor's confidence and skill with English language or understanding of UK culture which is having the greatest impact upon their interactions with both patients and colleagues. This can lead to frustrations between colleagues and can inhibit the doctor's career progression. Most importantly patient care can be both impacted both directly and indirectly.
In 2013 the GMC amendments to Good Medical Practice includes the following statement: 14.1 'You must have the necessary knowledge of the English language to provide a good standard of practice and care in the UK.' In addition their new powers under the fitness to practice procedures include 'to make sure all doctors are able to communicate in English well enough to treat patients safely'.
Doctors must now achieve level 7.5 in the ILETS examination to be accepted on the GMC register. Though ILETS level 7.5 sets a basic standard it does not necessarily equate to confidence and fluency. Continued Professional Development should cover all aspects of a doctor's practise and it would not be considered acceptable to settle for 'basic level' on any regulary employed skill without refresher or effort to advance. Good application of the English language is a fundamental skill which underpins all aspects of practise. For this reason we have now introduced our new Improving English Language Skills Course for Doctors.
What steps are you taking to improve your communication skills and cultural awareness?
Oxford Medical Training is the UK's leading provider of high quality career development for doctors of all levels. We specialise in advancing leadership, management, communication ,interview and teaching skills in the medical environment. Our new Improving English Language Skills Course for Doctors is now available for bookings.